A more effective use of the marketing budget
As digital optimalization increases, the importance of high-quality customer data cannot be overstated.
A lot of time and energy is being invested in the expansion and optimalization of digital communication and sales channels. Moving effectively from bricks-and-mortar to online is one issue. That customers expect a consistent experience across channels is a second. Omni-channel coordination is key, and requires up-to-date, correct customer information. A third issue is that advertising campaigns, mail campaigns and web and in-app intervention require significant budget and, as the combination and complexity of channels increase, so too does the time marketers need to spend devising, executing and evaluating campaigns. 
High quality integrated customer data is key but that's easier said than done.
The foundation for all digital optimalization is high quality, integrated customer data. In the digital world, the effectiveness of the marketing effort is only as good as the quality of the underlying data. However, in many companies, the data is not yet in the required state because the IT landscape was not originally designed for the digital world where customer data forms the central point. What we also see is that the focus of marketers still lies mainly with marketing and, even though data now plays a crucial role, only a relatively small part of the marketing budget and effort goes on data management. 
If part of the marketing budget were shifted to data management, far more could be achieved with significantly less overall spend. 
We need to shift the balance.
Firstly, effort is needed to bring the customer data together. Customer data and given consents fragmented across different systems is a common occurrence in the data landscape. The data needs to be brought together to provide an integrated customer view. Then the data needs to be integrated and made usable – combining data, adding labels, segmenting the data. It is only when data is made usable that we can extract the maximum value from it. Finally, both these steps in the process need to be flexible enough to adapt to changing circumstances, because the fact that systems and requirements change quickly cannot be ignored.
By looking at the advertising, marketing and data management budget as a whole and ensuring each block receives the necessary attention, the overall budget can be reduced while significantly improving return.
So how do we do this? Data management for SMEs and large companies.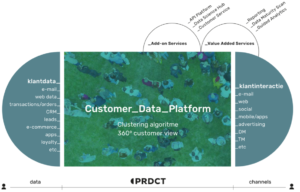 Customer data management is a whole specialist area.  If you choose to do it within your organisation it costs time and money. You will need qualified people who understand data architecture, know how to create a sustainable customer data environment and can make customer data available to marketers in a way that meets their needs. You also need people to manage and monitor the environment. This process must be flexible enough to adapt to changing circumstances and wishes.
Alternatively, you can find a partner to help you. That's why we developed the PRDCT Customer Data Platform. We make sure that marketers and their partners can use their customer data in the most efficient and effective way possible, while at the same time lightening the load for the ICT team. We do the heavy lifting around data for you, so you have more time to use the data to maximize your overall marketing return. 
If you want to know more, please feel free to call or email us.